The daily commute to work can be a frustrating car imprisoned waste of precious hours. Or it can be a great chance to get your running shoes and start the day in a productive, healthy and invigorating way.
Running to work in the morning is a sure-fire way to start the day on your terms. The health benefits of regular steady paced runs are substantial whether you are a recreational or more competitive runner.
Start the morning invigorated and energised. Starting out the day running in the open air can lead to a more productive and focussed workday. The endorphin release creating a feel-good vibe for the day.
If you are lucky enough to have parks or recreational areas on your run to work, the commute can bring you back in touch with life at a slower pace. In the city, you feel part of the city when running the streets.
In hotter climates, the morning run to work is an excellent opportunity to get your exercise quota away from the hot sun. The run home is a good chance to get some sun exposure to help build some vitamin D.
Regular lower-intensity running increases your health, fitness and wellbeing. Incorporating running to work with your training plan can create an overall time efficient training plan. The back-to-back nature of commute running is particularly effective in building endurance for that next half or full marathon.
Essential Tips for a successful commute run to work
Planning is key. Lay out your running and work gear the night before
Decide on your eating strategy, eat before you run to work or when you arrive
Run light, if possible sash work clothes at work weekly to avoid having to carry them
Leave your work shoes at work to avoid carrying them every day
Plan for showering (or otherwise)
Track your runs and what the miles or KM's stack up
Running to work essentials
Have the right running clothes and keep a spare set at work to avoid dramas if you get wet on the way to work.
A Headlamp in winter, dark mornings or evenings is essential to see and be seen. Choose a lightweight and long-lasting headlamp for comfort and freedom from recharging hassles.
Preparing for a commute run to work
Successful and hassle-free commute running needs some preparation. There are a few options below to mix and match to find your perfect preparation plan to suit your circumstances. Lacking the motivation to run in the morning? Layout your running gear the night before.
Work Clothes
Depending on your office dress code you may need to think creatively about work-wear. If the dress code is pants and a T-Shirt, they quickly rollup into a backpack without creasing or adding much weight. Rolling rather than folding clothes reduces any creases to a minimum. Roll don't fold your work clothes for a crease-free run to work
Another option is to take your weeks worth of work-wear into work on Monday or over the weekend. A clothes drop-off takes a little more preparation and relies on having somewhere to store your clothes at work. If you can plan this way, the advantage of carrying minimal weight and bulk in your backpack is well worth it.
Top Tip: Your work shoes are likely one of the most cumbersome items of clothing to carry on your run to work. Leaving your work shoes at work each day reduces running backpack weight and bulk significantly.
Running to work when there are no showers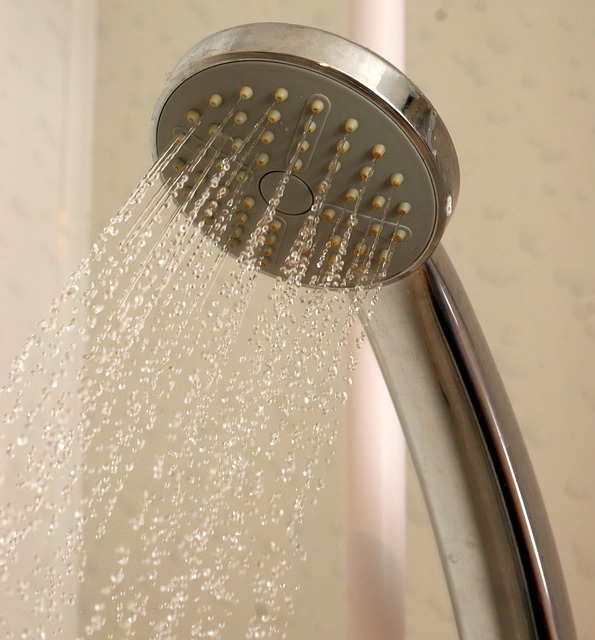 Showering options after your run to work
Ideally, you'll find some showers at the workplace to freshen up after the commute run. Sometimes you aren't so lucky. Rather than stinking out the office until your employer gives in, you can try the following options.
Is there a local community sports centre or swimming pool nearby? Often you can shower for a simple admission charge. Commercial gyms aren't usually as accommodating to the plea for a shower.
If you like hitting the weights at the gym, and your gym is close to work, add a workout to the end of your run. This can be a very time-efficient strategy.
Leaving a sponge and or washcloth at work is a simple option. Disability bathrooms often have the right amount of space and sink to make a quick washdown easy. Be courteous and don't hog the bathroom!
If all else fails, there are options such as Balleck Dry Shower to get you fit for the office.
Check out our tips for avoiding office stink after running for more ideas on being a good office citizen.
Winter running commute, running to work in winter
Don't let winter weather or cold put you off your morning run to the workplace. With the appropriate running clothes (we like to go for a layers strategy), gloves, hat and headlamp; running winter can be a stimulating start to the day. The Wim Hof or dry-land.
Check out our winter commute running guide for more tips.
How to manage your running commute with a laptop
If you need to run with the work laptop, a little thought is required. Ideally, the laptop will have an SSD hard-drive rather than the older 'spinning' metal hard drives. An SSD has no moving parts, unlike older hard-drives, SSDs aren't affected by daily jostling in a backpack.
A good backpack design will help you run with a laptop. Ideally, the backpack will have a compartment closest to where the backpack meets your back. This minimises bounce and helps to maintain a lighter feel to your backpack as the weight is close to your spine.
Water-proofing is a crucial consideration, assuming the laptop is already in a protective sleeve, don't underestimate the lightweight water-proofing abilities of two plastic bags!
Adjust the fit of your backpack snugly, but not too tightly to avoid putting a strain on the laptop case. It's a good idea to get a rigid laptop sleeve, though check the weight of them.
Track your run to work
A regular commute can stack up the stats remarkably quickly. Setting yourself an annual target can keep you motivated to run each/most days. Challenges such as 2020 km in 2020 add a lot of fun and a touch of competitiveness to your run to work.
Will I get injured running to work every day?
Running each day requires a different mindset to less frequent training sessions. We are aiming to run year-round and injury-free. We also need the endurance to feel as good on the Friday run as we did on Monday's run to work.
High-intensity anaerobic running needs to be kept to a minimum, we need to avoid the lactic acid and cortisol that higher intensity running releases into the body. Without the opportunity to recover and flush these from the body, we increase our risk for inflammation, injury and fatigue.
On the Borg Scale of Perceived Exertion, you want to be on a range of 11-14. A 'talk test' would indicate you can continue a brief conversation. We prefer the Maffetone Method to determine aerobic exertion level.
Mixing your week up by running and cycling to work is a good way to maximize the benefits of both.
Will running to work every day make me a slow runner?
Far from it, regular aerobic running creates an incredibly efficient aerobic base. Phil Maffetone has used predominantly aerobic training successfully with many high-level high-performing athletes. Regular running turns you from an idling Nissan to an idling V8.
---