Winter commutes are great. The shorter days and less predictable weather provide a few extra challenges and planning. Can I still run to work in winter? Hell YES!
Running in winter weather
Winter provides a few curveballs to the work commute. Shorter daylight hours, less predictable weather, to name a couple. Depending on your location, however, winter commutes can provide a welcome break from heat and sun.
Key tips for your winter running commute
See and be seen, grab a headlamp. Check your running gear is bright-coloured
Use layers to keep warm. This also means your outer layers don't need washing each day
Gloves can be a deal-breaker
Keep a spare set of 'getting home' gear at work. Nothing is worse than putting wet gear back on at the end of the workday
Wet running shoes? Stuffing with a newspaper of paper towels can dry them quickly
Run to the conditions
Should I still run to work in winter?
Year-round running has many benefits. Commuting to work by running is a time-efficient way to maintain regular running and training over the winter months to provide a head start for the spring/summer season. Choosing to run for your winter commuting offers the opportunity to try out some new training approaches such as the Maffetone Method.
Cold weather reduces some of the load the body is placed under in summer running, particularly reducing the amount of heat regulation the body has to perform. The ability to run regular commutes throughout the year is indicative of overall health, not just fitness.
Running to work in the dark
Reduced daylight hours from shortened days in winter months make visibility a key consideration. The two most important considerations are
How visible are you to other road users
How visible are road, path or trail obstacles to you
Being visible to other road users on your running commute
Nothing makes you completely visible to other road users at any time of the year. A few essential bits of equipment and awareness and keep your commute fun and safe. As runners, we are thankfully relatively slow-moving. But at the same time, that means we aren't always expected or particularly visible. Driveways and intersections are areas to be aware of and keep your Spidy senses switched on. Assume you haven't been seen!
Top visibility tip, grab a headlamp. In the dark headlamps provide a great opportunity to use the dark to your advantage to be more visible. Being strapped to your head, the point wherever you are looking, so if you are aware of a reserving car and looking that way, you're also projecting light towards the driver of the car.
An ideal headlamp will have a focussed beam of light to cover the width of a walkway ten or so yards or metres in front of you. Some cycling headlamps also have a red rear lamp which for added visibility. Weight of the headlamp becomes more important than battery life for running. Lightweight and bright are the way to go.
Stick to Black Diamond, Fenix or Petzl headlamps. You don't need a bunch of features, just a good solid focussed white light. AAA, AA or rechargeable is a personal choice. For work commuting, don't discount the convenience of USB recharging from your desk. Look for something of at least 200 lumens.
Next is a pretty commonsense check of your running gear. Is your running gear dark colours? Most mainstream running clothes will have at least a couple of reflective strips. If you really want to get more visible an illuminated arm or wrist-band is a simple effective way, especially as your arm swing adds eye-catching movement.
Running your work commute in the cold
With the right mindset and a little planning, a morning run to work in the cold is an incredible start to the day. A dry land Wim Hof approach to the morning routine has a range of health and wellbeing effects.
Running gear for cold weather
Layers are your friend for cold weather running. Often the start of the run feels cold, but 5 minutes or so into the run you can get pretty warm. Depending on how far from the equator you are, winter running is either 'cooler' than summer or a fun opportunity to run through frost and snow! Running clothes can take a beating from the weather in winter and start to turn smelly, keep them dry and wash them correctly.
Commuting clothes for running, upper body
A hat, gloves, long-sleeved tech shirt for a base-layer, and optionally a regular running shirt topped with a light-weight breathable running jacket is a great combo.
The head loses lots of heat; more importantly, irritation and eye-watering pain result from cold ears! Depending on the level of cold (frost is a sure sign!) a lightweight hat that also covers the ears is a wise more. There's an added benefit of the hat being a barrier between your headlamp and forehead, which avoids questionable red marks on your forehead when you head into the workplace! Grab the bonus of a fully reflective (and reasonably priced) hat from EZGO. Pro-tip, buy two, you are bound to lose at least one hat!
The base layer tech shirt should be reasonably snug fitting without being restrictive. Depending on whether a rolled neck bothers you when running you may want either zipped or zipless. Over the weeks, the base layer will pick up most of the warmth and sweat. And if you don't have anywhere to dry your running gear at work, it will sit damp in a backpack most of the day, so be prepared to replace it once in a while!
Depending on the temperature, you may want to wear a regular running shirt over the base layer. There's an added advantage that this extra layer sitting between the base-layer and outer jacket allows the other two-layer to move more easily. Using last seasons old running shirts is a good idea here. The extra layer also absorbs any sweat that makes it through the base-layer. The outer running jackets are usually the most difficult to remove and 'running stink' from over time without harming their water-resistance.
A lightweight, thin running jacket has the advantage of being easy to unzip to let some heat out while keeping the cold wind off your arms. Again you are looking for a reasonably snug fit, this time to avoid your jacket becoming a wind sail. Elasticated cuffs are essential to prevent the sleeves from riding up your arm. Individual preference would determine Garmin under or over the jacket sleeve!
Fingers and hands can get painfully cold surprisingly quickly, making some gloves essential. Lightweight wind and water-resistant gloves are high on the list. Another pro-tip, grab a couple of pairs to alternate, it's incredible how much the hands can sweat! And again it's much nicer to put on a pair of dry gloves rather than yesterdays that are still slightly damp.
Check out running to work in-depth article for more practical tips for managing your commute run.
Commuting clothes for running, lower body and legs
The big question here is running tights or not. Either way, we would recommend at least one base layer or either compressions shorts or running tights. The compression layer keeps some windchill away, but more importantly, we've found it helps reduce or eradicate chaffing.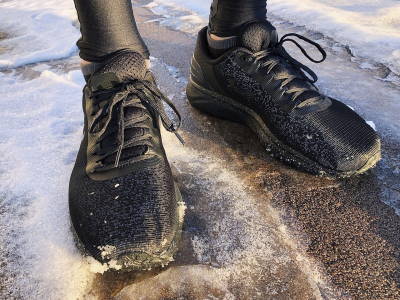 Cold skin, rain or damp and maybe damp running gear are a perfect recipe for chaffing. The thought of continuing a run in the cold with chaffing bodyparts is a recipe for grabbing the car-keys. So either grab some
BodyGlide
or make sure you wear a compression layer.
We've never suffered from cold feet on winter commutes, so your usual running socks should be perfect. Be sure to have a spare pair stashed at work so you have a dry pair of socks for the run home if it's raining on your commute run to work. Again winter running can be a bit wetter than your usual run and drying clothes can be a challenge.
---