Brief History.
The GJ Gardner Maraetai Half Marathon is now in its third year and is the fourth race in the Auckland Half Marathon Series 2020⁄21.
Bib Collection.
The race bibs for this event were mailed out by snail post – which although such a simple thing is such a great stress reliever on race day. 
Race Order.
The event is organised into four race distance categories by different coloured race bibs.
2k – Red
5K – Orange
10K – Green
21k Half Marathon – Blue
The Course.
Is an out and back course starting and ending in Te Puru Park for all the event distances. For the Half Marathon, you will run along the Pohutukawa Coast with great views of the Waitemata Harbour. You will also run in Omana and later followed by Duder Regional Park, at the far end of the run.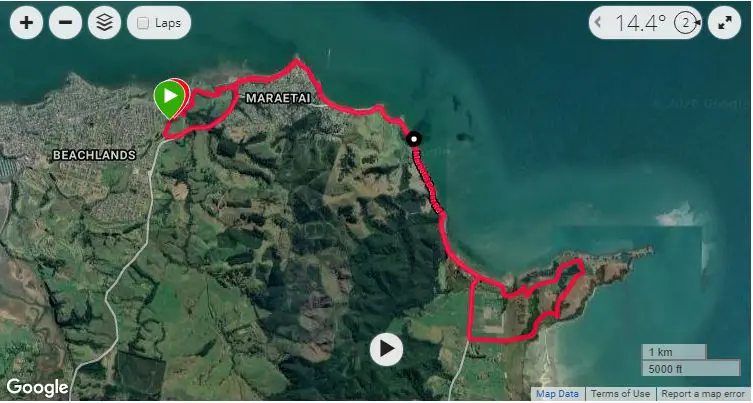 The Event.
Possibly one of a handful of the last running events in New Zealand before the country went into lockdown due to the COVID-19 virus crisis on Friday 27th March 2020.
The Highlight For Me.
The views of Waitemata Harbour while running on the Coast Road – we do live in a beautiful country indeed.
Event Stats for 2020
Entrants = 2,817
Finishers =   2,199
1st Male Half Marathon = 1:16:30
1st Female Half Marathon = 1:19:21
Avg. time = 2:16:06
The Bling (Medal).
The medal for this event is enormous, brightly coloured and quite heavy. Something very worthy of putting on display as a reminder of the run and for maximum bragging rights.
Event Rating.
Great event all up. It was nice running along the coast with beautiful views of the Waitemata Harbour and the Coast Road lined with beautiful Pohutukawas. Having the [Haere Mai Taiko]2 thumping out a beat was powerfully motivating. The only thing I didn't like was the fact that the route to the finish line was also the only way back out to the car park and in some areas was very narrow, making it unfair on runners still running to finish their event having to dodge through finishers. So all up I'll give the Maraetai Half Marathon event a firm 8 Running Shoes out of 10.
Event Pictures.
---