Running with your phone is a great way to keep in touch with everyone, and is excellent in the case of an emergency. Maybe you enjoy listening to music for extra motivation, but running with your phone in your hand can be awkward at the best of times. If your hands get very sweaty, it makes it a mission to swipe your phone to do anything. The worst issue is, of course, accidentally dropping your phone, and we all know what the outcome will be if that happens, and it's not pretty. Running with something tightly grasped in your hand is not great for your running technique either. 
Thankfully there is a reasonably cheap alternative to holding your phone while you run and it's the armband. An armband will keep your hands free and your phone close. Running with your phone will allow you to play music, use the GPS with a tracking app and get the best out of your workout. You also will have your camera available for that essential social media post.
There are four different styles for you to choose from on the market. I'm sure they all have technical names for each, but we've called them what we think resembles the look of them to make it easier to categorise and discuss. If you know, the commonly accepted name for these armbands let me know in the comments below, and I can correct them here.
They all have their pros and cons so it will be personal preference and to some degree what phone you have and what sort of access you want to it while you are running.
Full Cover Armband – fits your phone into a pocket with a clear front so you can view your phone. Check that the phone pocket shuts securely and protects your phone.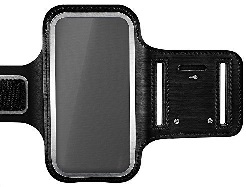 Full Cover Armband
Stretchy Silicone Straps – that fit over the top and bottom of your phone.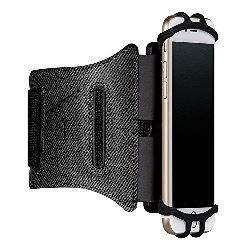 Stretchy Silicone Straps
Retractable Diagonal Brackets – that fit on two opposing corners of your phone.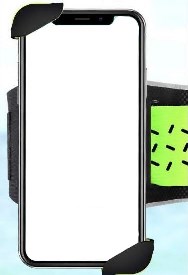 Retractable Diagonal Brackets
Quick Mount System – a two-piece quick-mount system – the phone has a particular case or fitting, and the armband has the second part that allows the phone to attach.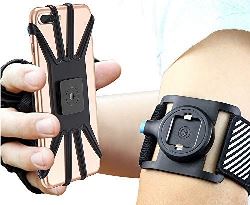 Quick Mount System
What to look for when you are choosing your armband.
Some things to think about when choosing an armband for your phone. These are in no particular order.
Additional Protection – Some of the full cover armbands come with a foam lining inside the pocket for extra protection.
Colour – you no longer have to settle for standard basic black – some armbands come in an extensive range of colours.
Water-Resistant – if your phone is not water-resistant, you will need this feature in your armband, no matter how well you plan your run you will one day get caught out.
Extra Pockets – some have a key pocket for a small set of keys, some have other additional pockets to store things like Credit Cards.
Rotate Your Phone 180 Degrees – this allows for easy screen access and is not a function of the Full Cover Armband.
Adjustable Arm Strap – Does it fit your arm? Does it come with an extender if you have a massive bicep? Measure your arm and check the armbands sizing chart. Velcro is a superior option for securing your phone while remaining lightweight. Although Velcro is reported to work poorly in the rain, I've never seen or experienced this personally.
Breathable – the armband material is breathable? – How much more will your arm sweat wearing it? Neoprene doesn't breathe as well as other materials.
Sweat-resistant material – is it also a soft material to prevent chafing.  
Weight – needs to be lightweight – you don't need any more weight attached to your arm then necessary.
Safety and Visibility – While there are many armbands on the market with reflective features, there are surprisingly few that light up. [][1]Griffin's Lightrunner is one that does for that added protection. See the link below.
Washable – Can you throw it in the washing machine when it needs a wash?
Comfortable – fits your arm comfortably and feels great to wear.
Secure – does the armband stop slippage, prevent bouncing which leads to the armband sliding down your arm or causing chafing because of the rubbing.
The phone fit – compatibility with your mobile – it needs to be a good fit. Make sure the armband is designed to fit your model of phone. If you have an extra-large case like the Otterbox, make sure there's extra room to provide that.
Touch screen compatible – The clear plastic cover on the full cover armband is it touch-screen compatible. Face ID also may not work well through these covers screen, so you'll likely need to unlock your phone with your passcode.
Cutouts – are in the right place for your phone for your earphone jacks. Are corded headphones easy to thread through the case to plug into your phone?
Price – is always a decider for some when buying new items. Some Armbands come with a 100% money-back guarantee.
Warranty – does it have a years warranty or lifetime?
Button Access – direct access to the home button for iPhone users, can you adjust the volume of your phone without too much trouble.
Still not sure an armband is for you?  Maybe a running belt is a better option for you.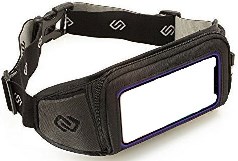 Running Belt
---