With so many running shoe options available, it's easy to forget about the importance of right sock. It is just as important to choose the right sock as it is to choose the right shoe.
Socks chosen well will give you excellent comfort and help prevent blisters. Don't make buying your socks an afterthought. There are so many different brands, thicknesses, padding, types of cuts to choose from it's essential to take some time and select a sock that is going to be right for you.
Just ask anyone who has suffered from blisters or other feet complaints how important choosing the right sock is and that it shouldn't be a rushed choice. The two big problems our running feet deal with is moisture and rubbing – choosing the best sock can alleviate both of these common issues.
Socks should do three things:
You should accept nothing less.
Socks should protect your feet.

Be comfortable.

Wick away moisture to keep your feet dry.
Best Fabrics for running socks
Cotton is a no go in today's world for runner's feet – they were the norm with runners in the past reaching for 100% cotton socks, but now we have synthetic fabrics which are far better. Cotton is excellent as it is soft and comfortable, but as far as pulling away moisture from your feet in a sock, it's inferior. Cotton will absorb any humidity like sweat, which will be a precursor to developing blisters and chaffing. Read more about chaffing here.
There are roughly 250,000 sweat glands in your feet, and they expel as much as half a pint (230ml) of moisture each day. So your running socks must have excellent sweat-wicking properties.
The following are some standard fabrics/ blends used in socks today.
Nylon – was the first commercially successful synthetic thermoplastic polymer with the first example being available in 1927. Nylon is a synthetic fabric that is well known for its strength and ability to withstand wear. It does, however, easily absorb water, which is why it is typically blended with other polyesters to give it those needed moisture-wicking abilities.
Polyester – a synthetic fabric often blended to make socks as it is not as hard-wearing and of high quality as other fabrics. Polyester has excellent water-repelling properties, which are a favourable benefit in a sock. The blended polyester socks have been designed to be better at controlling and wicking moisture away from your feet. Some of these polyester blended mixes are CoolMax, Drynamix and Thor-wick cool.
Merino Wool – a natural fibre that comes from Merino sheep. Very breathable and able to wick away moisture making it very versatile in both hot and cold conditions. Merino wool, unlike the traditional wool, is not itchy and is used as a replacement for polyester in socks. It also possesses antimicrobial properties to kill or stop bacteria and other microorganisms and prevent odours. Generally, Merino wool products are more expensive and not as long-lasting.
CoolMax – Coolmax is a fabric created from a blend of Polyester fibres designed to improve breathability.  It was intended initially for clothing used during extreme physical exercise, now used in other garments and products it is often mixed with materials like cotton, Spandex, Tencel and wool. It has excellent moisture-wicking properties that keep your feet fresh and dry longer.
Olefin -Olefin is a fibre that does a fantastic job of wicking moisture and allows your feet to breath. It is a synthetic fabric that is known for its excellent insulation to weight ratio.
Padding & Cushioning for running socks
Socks will come in a variety of thicknesses and cushioning. Personal preference will determine how much or how little the sock you buy provides. Thick socks are more suited to people who suffer from foot fatigue and other foot issues.
Sock cushioning is around the ball of the foot, heel and back of the heel at the top edge of the shoe. Cushioning will make the sock more comfortable and will extend the life of the sock to some degree.
The degree of padding you choose may also be dependent on the type of weather you are currently running in. In the middle of summer or high temperatures, a sock with less thickness would be preferable to let your feet breathe and release extra heat. In winter or the cooler temperatures, something a little thicker would be the preference. Some runners prefer this added protection and cushioning provided by the extra thickness.
Overall choose socks that have at least a degree of padding at all points of contact around the foot. Socks should offer a level of cushioning at the impact zones of your feet.
Sock Height
Socks come in different cuts and lengths. The most common ones are No Show, Mini Crew and Knee High. What height you go with can be determined by weather conditions, type of training you're doing and your personal preference.
No show/ Socklet – is just as the name describes a sock that's designed not to show or be invisible when worn. These socks provide the least amount of fabric covering the foot and so don't give runners up the leg tan lines as higher socks do. Not the best sock for trail running as it won't help keep debris from entering the sock. They are however better for road runners and keep the feet a little cooler because of their length. Many no show socks have ankle tabs to help prevent blisters on the backs of your heels when you're running.
Mini-Crew/ Anklet – come to just above the ankle bone and are the better choice for trail runners to keep out debris. They give the ankle area protection from being skinned. They are warmer than the No Show socks and will provide you with a tan line.
Crew – come up to the calf.
Knee-High – are popular in the compression form and support the lower legs as well as give protection in long grass or low bush. Sit just below the knee and cover the entire calf.
How to choose the correct size running socks
Always look at the sock manufacturers sizing chart before making a purchase. They are not all the same and differ between manufacturers. The sock range may vary so try and find one that puts your foot size in the middle of the range, giving you a better fit. It is better to buy a brand that has your foot size falling in the middle of the range instead of on the edge, meaning the sock will possibly be too big or too small for you.
A pair that is too big will bunch up and sag and not provide any cushioning as well as it will rub and irritate your skin, possibly leading to blisters. Socks shouldn't be that tight as to leave marks on your skin, especially at the top of the sock. They shouldn't overstretch when you put them on or restrict any movement of your foot.
Select a sock that fits around your entire foot and doesn't move or slide around. Have the heel section of the sock fit on your heel without it having to stretch to do so.
The Fit
Just like a pair of shoes, socks have to fit well too. A pair of socks that are too small will hinder your circulation and possibly give you pins and needles. A pair that is too big will rub and cause blisters and chafing.
Anatomical Fit
Anatomical fit socks are now produced, meaning they are explicitly designed to fit either the left or right foot and are contoured to fit perfectly. There is a little "L" or "R" printed or sewn into them by the big toe area of the sock to show what foot to wear them on.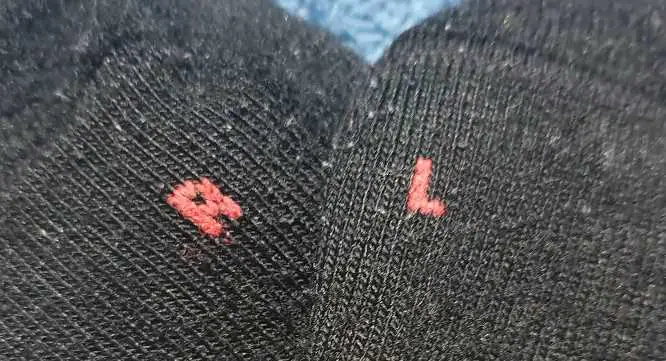 Anatomical Sock Letters
Compression Socks
Compression socks are designed with a gradual compression, improving and enhancing the blood circulation to and from the leg muscles. They may improve performance and is believed to lessen muscle fatigue, soreness and swelling, speeding up recovery following a workout. Make sure compression socks are not too tight they should aid the circulation not hamper it.
Toe Socks
Toe socks are also known as finger socks, glove socks, 5-toe socks or digital socks. Toe socks are becoming popular in the ultra-running and minimalist shoe runners circles. They are socks that have individual toes, like a glove, separating the toes from one another – think Vibram FiveFingers running shoes. Toe socks reduce the toes rubbing together and creating blisters – less skin on skin friction. If you are transitioning to a minimalist shoe and still want some padding or warmth, you could consider a pair of toe socks. Check for the brand the Injinji; they can be more expensive than regular socks.
Seamless Socks
Seamless socks are ideal as they remove any stitched seams. Having no seams means less chaffing as a poorly placed seam can rub and blister on long hot runs.
Are blisters a problem?
If you are prone to getting blisters or have an ongoing issue try the double/ two-layer (anti-blister) sock. They are supposed to reduce friction between the foot and the shoe. They are generally a little thicker than the regular sock and less breathable due to being two layers.
Visibility
Not something required, but a nice to have, are socks that are highly reflective and are ideal for running at night. Some have reflective triangles that light up your ankles and give you 360-degree visibility. Great for running at night or in low light conditions.
Men's vs Women's fit
Many socks on the market are unisex, but some companies do offer a woman's sock. These usually are narrower than their male counterparts. If you have more fuller foot, don't be put off by buying the men's fit and vice-versa if you have smaller feet buy a woman's fit sock.
Make it Specific
Buy socks that are specifically designed for what you are doing – walking or running. Don't buy the generic "Athletic" socks. Socks made for a specific reason will have the cushioning and padding built-in for that purpose. These socks will be more expensive than the generic ones but in the long run (no pun intended) will pay for themselves in the comfort and other properties they provide.
Can you try the socks on?
Socks and shoes go hand in hand, so you need to make sure they work and feel well together. Try on your socks with the running shoes you are going to be wearing. Socks may feel great when on by themselves, but when you put your shoes on might not feel right. Different thickness socks will make the shoe fit and feel different.
How to care for running socks
Refer to the manufacturer's instructions regarding how to care for your socks. Care will possibly not be the same between different brands. Read the packaging that came with the socks before you throw it away. Some socks need to be air-dried to keep from shrinking while others are recommended to be washed and dried inside out to re-fluff up the padded portions of the sock.
Generally, tumble drying your running socks can make them shrink a little because the synthetic fibres break down, which may be just enough to make your favourite pair become uncomfortable overnight. You are also at risk of reactivating whatever bacteria may still be remaining in the socks and making them smell again.
Make sure you wash your socks regularly, especially if they become dirty. Dirty and sweaty socks will only increase the chances of blisters and chaffing. Clean socks breathe better and will wick away the moisture build-up faster.
Don't use your socks for anything but what they are meant for – running or walking not for general wear and use.
Remember the Golden Rule applies to socks too – "Nothing New On Race Day".
Time to say "Goodbye"
It's time to say goodbye to your running socks when they lose their shape or cushioning. Your socks should always conform to the curves of your foot. When they don't, it is no longer offering the protection and purpose they were designed to provide.
In the End
It's a question of personal preference just like when you bought your shoes. You need to try a few socks before you settle on the one that's right for you. We hope this guide has given you something to think about when you're purchasing perhaps the second most important piece of running gear after shoes.
---